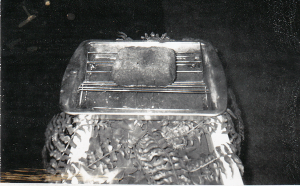 Well, the mummy case prop started quite a bit of discussion and reminiscences. This might do the same. The little goodie shown here is a prop London Broil that I made for one of the several The Odd Couple performances that I have done over the years.
Like the Mummy Case, this one was made for the theatre department at Illinois State University. We were doing The Odd Couple for the summer theatre series. Even better, it was performed in the round. For the uninitiated, this means the audience was seated on all sides, in the round, you see. In this case the crowd was on four sides, we were working in a square, and they were very close to the performers and set.
For some reason, nobody knew what London Broil looked like. In this day and age with the Food channel, Cooking channel, TV, Internet, Web, and more, the idea of not being able to figure out what London Broil looks like sounds a bit weird. But, in a fairly small town in Illinois, well, it was a bit of a problem.
The solution was to "wing it" and that is what we have here. In The Odd Couple the London Broil plays a central part in the breakup of Felix and Oscar's relationship. The meat gets burned to a crisp and is pulled out of the oven resembling, more than anything, a chunk of charcoal.
This piece was made from a lump of pink Styrofoam. I hammered it into submission to get a certain shape and density. Then I coated it in white glue and rolled the whole thing in sawdust. Several coats of spray paint followed. Applications features flat black, a touch of gray, and I seem to recall a little brown. There was just enough variation to make the prop look really, really, toasted and roasted.
When Felix pulled the prop out of the oven on stage, well, it looked just about right.