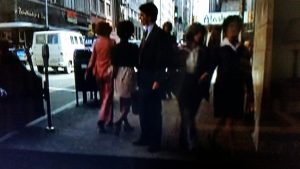 You know, it is not often that we can saw we know somebody who was actually in a movie. But, I am pleased to say that I know several people who were in the "cinema". Here's a kicker for you: our pal from "way back", Linda K, is seen on this photo going into the old Bon Marche store in downtown Seattle. Linda is the one with the white shirt heading for the door.
The movie is Sweet Revenge and was made in the '70s. It managed to stay hidden until this past weekend when it turned up on TCM. I am pretty sure that the cast prefers to not discuss the film. I'd call it "The Movie That Must Not Be Named". So, in a matter of mercy, I will not specify who is in it. It is, honestly, terrible.
Sweet Revenge was filmed primarily in Seattle and Tacoma. I am not sure, but I think one scene was done in Olympia, but I cannot be sure. It is fun to see the cities as we are looking at an open time capsule. In Seattle we see the old Hat & Boots gas station, which has now been moved to a different location to save it. In Tacoma we see a lot of downtown and great views of Old City Hall and the Tide Flats.
You might have fun checking out this movie, if you can find it, but be prepared to use the fast forward button a lot.