---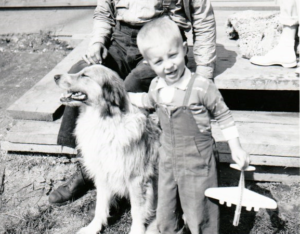 In answer to the inevitable questions based on who, what, and where, here's a quick little bio. I am originally from the great Northwest. You can find all sorts of related details on the Certificates and Affiliations page. But, the key is that I started out as a theatrical scenery designer with a side of lighting design.
I've designed about 50 plays and musicals, maybe 300 or so concerts, and directed a few times. One day I will make a list.
After doing that for a period of time  I went into commercial lighting and worked for a sales rep firm in what I shall call a "Great American East Coast City." That's enough to say. Later I worked for "A Major Entertainment Lighting Manufacturer", and then for a "World Famous Entertainment Equipment Supplier". Pretty cool, eh?
One thing led to another and I started my own business in Albany, NY and worked for a number of years at the Interactive Media Center at the University at Albany.
The photo on the right is a snap of me with my grandfather's dog, Joe. That's my grandfather in the background. You can see that my primary interest at that time was dogs and airplanes.
Some things don't change.