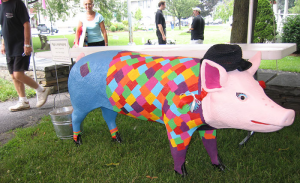 We have been working on some site updates and came across a bit of a Blast from the Past. Back in 2006 the Guilderland Chamber of Commerce cooked up a really wild and slightly wacky event, Pigtacular! I was on the committee and I have to tell you that it was a fantastic event.
The photo on the right is from one of the gallery pages, you can see more at www.guilderlandchamber.com/pigtacular-pignic-park/.
At the time of this writing, we are still working on the menu for the Past Events section of the Chamber's site. I am hoping that the updates and improvements will be sorted out shortly. Use the drop-down menu at the top of the pages to visit the other galleries.
Meanwhile, you should know that the Chamber auctioned off the artistically decorated pigs and raised more than $27,000, all of which when to charity.