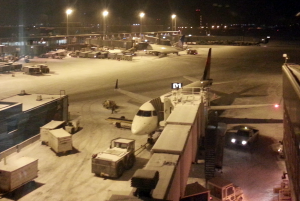 One of the things that most baffles me is the panic that ensues when there is a flight delay. Over and over again you hear the tired refrain, "I am going to miss my connecting flight!"
Well, let's take a look at this issue.
When you book a flight you will almost always have two or more connecting flights. That is because of the "hub and spoke" system the airlines use. If you are flying from New York City to Los Angeles you can probably get a direct flight. But Syracuse to New York? How about Cleveland to Portland? You can expect to change planes somewhere during the trip.
The booking systems show flight suggestions. You know, city A to city B via city C. City C has the "layover" and that layover time is specified in the itinerary. However, that layover time is based on a best case scenario.
During certain times of the year you can expect a higher than average chance for a delay. Why? The answer is simple- weather. You can bet your frequent flyer miles that if there is a blizzard in the mid-west that there will be problems in the system. Warmer weather brings thunderstorms, so summer may not be much better sometimes.
The airlines cannot control for weather. Nobody can. Weather is as weather does. But, if you are traveling during a bad weather season you should allow for extra connection time.
I recently had a 3 hour layover in Detroit. That wasn't my idea, by the way, I was subject to the plans made by others. But, because I was traveling in a bad weather season I was content to have some extra time in case an flight got delayed somehow.
Detroit is huge, and the thought of dashing between gates in the A Concourse did not sit well with me. Of course, Detroit also has what maybe the best large airport in the US. That means I had the opportunity to wander along and enjoy what DTW has to offer. In my case, everything went very smoothly and I had no pressure during the layover.
I hope your next trip is as successful.