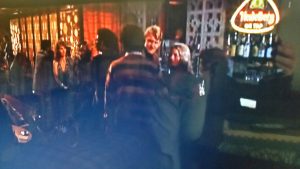 In the last post I put up a photo of a pal doing a "walk by" in a movie. Well, here's a photo of another friend in the same movie! Right, that's Lynn K smack in the middle of the photo. It is a remarkably good picture. I guess he is doing a "drink on" rather than a walk on or walk by.
The movie is, as you may recall, Sweet Revenge, and was filmed almost entirely in Seattle and Tacoma. Both cities are wonderfully cinematic with great locations, views, and so forth.
Of particular interest to fans of Tacoma is the old Heidelberg beer sign in the top right corner. Heidelberg was a brewery in Tacoma and was extremely well known back in the day. You can discover more about it at this history link.