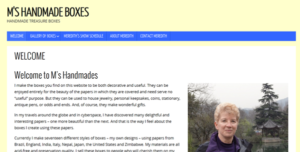 Oh, yes, we have been busy around here! Hence, no recent posts. Well, that drought of posts is over, I think.
Yesterday we launched (or is it "re-launched") the of the site for M's Handmade Boxes.
M, or Meredith, has been a client for a very long time. We have been managing her site for ages. M used an older technology to update her site and post the latest box designs.
Unfortunately, times changed and the old fixed width sites are out. As you probably know, search engines discount non-responsive designs. And because the latest statistics indicate that sites are viewed by mobile devices more often than they are view by computers it was time to make major changes.
Over the course of several weeks we converted the static site to a responsive design using WordPress and the very cool Tempera theme. We added a catalog plugin to show off the boxes, and the famous Yoast SEO plugin to be sure that the search engines find the site.
All in all the project was great fun, and it looks amazing, too!
Check out M's Handmade Boxes right now at www.mshandmadeboxes.com.