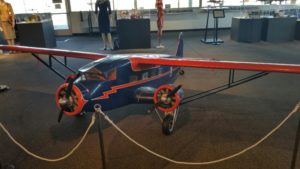 I had occasion to visit the Flight Path Learning Center and Museum at Los Angeles International Airport (http://flightpathmuseum.com/) recently. This was a return visit, I was last there a couple of years ago. One of the many things they had on display was this extremely interesting model of a Stinson airplane.
The detail on this is magnificent. But, that should come as no surprise as it was used on the Indian Jones movie. It is not a tiny thing by any means. My best guess is that the wingspan well exceeds 6 feet. The intricate detailing on the engines is a real treat to see.
The Flight Path Learning Center and Museum is at the old Imperial Terminal on the south side of the airport. This isn't an ordinary museum. There are a lot of models. You might say that the Center specializes in what goes on IN the airplane rather than the airplane itself. I am told that their collection of historical aircrew uniforms is probably the largest in the world.
Because the building is right on the flight line, it is worth spending some extra time there to watch the aircraft movements. They have a radio tuned to the tower frequencies so visitors can listen to controllers directing the airplanes around the airport.
One neat thing- be sure to visit the new Spaceflight Room. See if you can find David Bowie in the mural on the wall.  He's there, I found him.