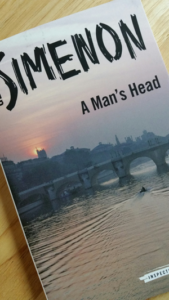 George Simenon's Maigret is one of the most famous literary detectives ever created. He is probably second only to Poirot!
Penguin has been reprinting the Maigret series in paperback, and the quality of the publication is excellent. I recently added to my collection a ninth column from Penguin, in this case "A Man's Head". No, the subject is not dis-located heads, but it is another case of Maigret solving a difficult case.
Maigret stages a prison escape, if you can imagine that, in the hope that the convicted prisoner will lead him to the real criminal. Maigret's career is on the line and he is under close scrutiny from the top level supervisors. Meanwhile, there are deep forces at work and things are not quite what they seem. In fact, there is a mysterious Hungarian who may or may not have something do to with the whole affair. And what about the rich American?
The original copyright is 1931 and the reader gets a good taste of Paris between the wars. The book is translated by David Coward.